I have another busy week coming up this week. I have a feeling things will be pretty busy around here the next few weeks with the Virtual Great American Bake Sale planning and preparing. Fortunately, I have quite a few meals in the freezer that we can eat.
A few weekends ago we were supposed to spend the night at my in-laws lake house to celebrate my father-in-laws birthday, and Gracie's 2nd birthday. That had to get pushed back though, so we'll be doing that this coming weekend instead.
Breakfast
M - Banana bread French toast (using banana bread from the freezer)
T - Peanut butter oatmeal
W - Morning glory muffins & smoothies

Th - Waffles
F - Scrambled eggs & toast
Su - Breakfast w/ the in-laws
Lunch
M - Tuna pasta salad, peaches
T - Pizza bagels (from the freezer), carrot and celery sticks
W - Leftovers
Th - Quesadillas, apple slices
F - Chicken salad in pitas, pineapple & oranges
S - Lunch w/in-laws
Su - TBD (depending on when we leave)
Dinner
M - Beef and rice wet burritos (from the freezer), Mexican corn casserole
T - Something using chicken & gravy from the freezer (maybe over biscuits)
W - Stuffed Shells (from the freezer), Tomato-basil bread
Th - Meatloaf cups (from the freezer), mashed potatoes, maple-glazed carrots
F - Chicken Parm fingers over garlic spaghetti, broccoli
S - At the in-laws (I will be taking 2 cakes - one white, one chocolate)
Su - Black bean & corn nachos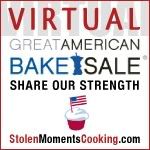 Have you submitted a recipe for the Virtual Great American Bake Sale yet? All of the proceeds go to Share Our Strength to insure that no child goes hungry. Please check it out, help spread the word, and submit a recipe.
For dozens and dozens and dozens and dozens more menu plans, make sure you visit Organizing Junkie.